1) Give a description of the problem
I want the ability to perform multiple tasks based on two or more triggers. For example, if it is between 11:00 pm and dawn and we are home and motion occurs on my front porch then I would like my dome alarm to ring a bell (simulated door bell), flash my family room desk lamp on an off several times and have the the front porch lights go to 100% for five minutes and then assuming the motion on the porch has stopped, have my front porch lights dim to 30% for two minutes, then turn the lights off. ( I have a camera on the porch and I want of have good visibility of the recorded motion. This is a routine I had set up in stringify. It is not possible to do this level of complexity with Smartthings alone. I use four smart devices, for this routine. These devices are a GE Smart Dimmer for the porch lights, a motion detector, a Dome bell/siren and a smart receptacle to which i connect my desk lamp.
2) What is the expected behaviour?
See above - Note: I have a video the shows the routine in action and the Stringify routine but I did not provide a link b/c I do not want to accused of spamming.
3) What is happening/not happening?
Light is not dimming and turning off. lamp is not flashing
**4) Post a Green Snapshot of the piston![image|45x37]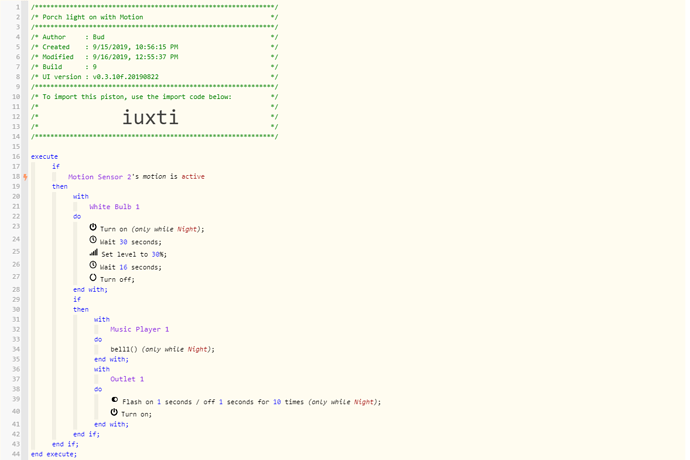 5) Attach logs after turning logging level to Full
10/5/2019, 9:43:29 PM +59ms
+0ms ╔Received event [Bud's Home].time = 1570326210776 with a delay of -1718ms
+105ms ║RunTime Analysis CS > 26ms > PS > 66ms > PE > 14ms > CE
+108ms ║Runtime (37897 bytes) successfully initialized in 66ms (v0.3.10f.20190822) (106ms)
+109ms ║╔Execution stage started
+110ms ║╚Execution stage complete. (1ms)
+111ms ╚Event processed successfully (112ms)
10/5/2019, 9:43:18 PM +649ms
+1ms ╔Received event [Porch Motion Sensor].motion = inactive with a delay of 74ms
+74ms ║RunTime Analysis CS > 16ms > PS > 45ms > PE > 13ms > CE
+76ms ║Runtime (37892 bytes) successfully initialized in 45ms (v0.3.10f.20190822) (74ms)
+77ms ║╔Execution stage started
+85ms ║║Comparison (enum) inactive is (string) active = false (2ms)
+86ms ║║Cancelling condition #2's schedules…
+87ms ║║Condition #2 evaluated false (6ms)
+88ms ║║Cancelling condition #1's schedules…
+89ms ║║Condition group #1 evaluated false (state changed) (7ms)
+91ms ║╚Execution stage complete. (14ms)
+92ms ╚Event processed successfully (92ms)