1) Give a description of the problem
The Phillips Hue Bulbs are not returning to the prior state before the piston was run. Also, the transition from color to color could be a little smoother.
2) What is the expected behavior?
When a virtual switch is triggered, I want the lights to blink green and white 6 times. When the loop is complete, the lights should return to the prior state.
3) What is happening/not happening?
The lights blink OK (not great, but OK - timing, intensity could be better). They blink 6 times and then at the end of the loop they don't return to the current state. The lights simply stay white (the last color in the loop).
4) Post a Green Snapshot of the piston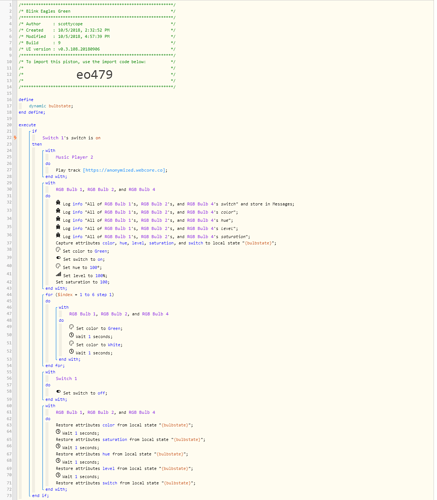 5) Attach any logs (From ST IDE and by turning logging level to Full)