1) Give a description of the problem
Yet another ambitious piston that I don't even know is possible.
Trying to make an energy saving piston. It will save devices that are on to a variable and loop every 10 mins. If the same device is on 6 times, turn off.
2) What is the expected behaviour?
I need some way of comparing the devices listed in the 2 variables.
Method 1: Originally I was going to use an expression, somehow, and if the same device is mentioned in 2 variables, save matching devices to a different variable. But I would need to add a count after each device So Bed Light 2, Hall Light 6, Toilet 4. IF $Device count <=6, Turn off.
Method 2: Save the devices matched over x amount of 10 min loops to the 1 variable, then count how many times the same device appears. Later, IF $Device count <=6 (10mins x 6 = 1 hour) turn $Device off. Although I don't prefer this method as a device turning on 15 mins in wont count up to 6 occurrences in an hour before being told to switch off.
Ideally I would want it to work down to the 10 mins. So the max time a device would be left on is an hour (ish).
Rather then comparing over 1 hour in method 2.
Even if I have to have 6 variables and save the device list to them on rotation, I just need to know how to compare devices listed in 2 variables and if so, save to another variable.
**4) Post a Green Snapshot of the piston
I don't have much so far.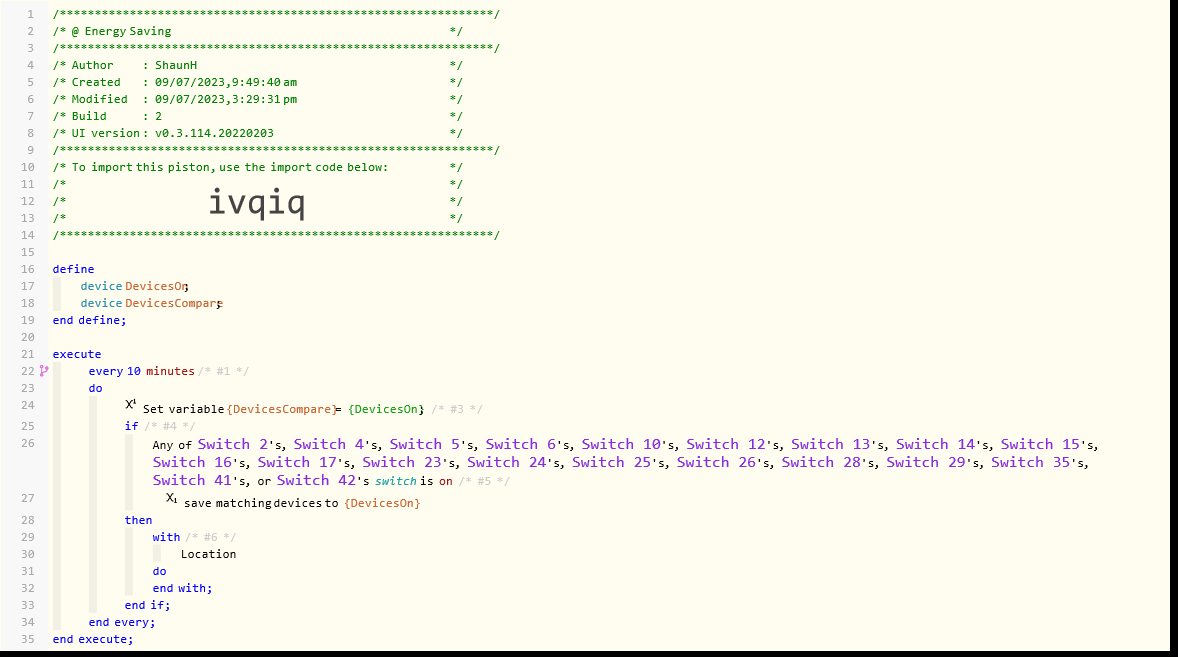 Any ideas?