1) Give a description of the problem
I've created the attached piston, but it only seems to work sporadically. i'm sure the solution is simple and I'm just overlooking something.
Basically I want it to turn on my garage fan whenever the door is open, and the temp is above 95 degrees, and I want it to turn the fan off if the door is closed.
2) What is the expected behaviour?
Sometimes the switch turns off, sometimes it doesn't.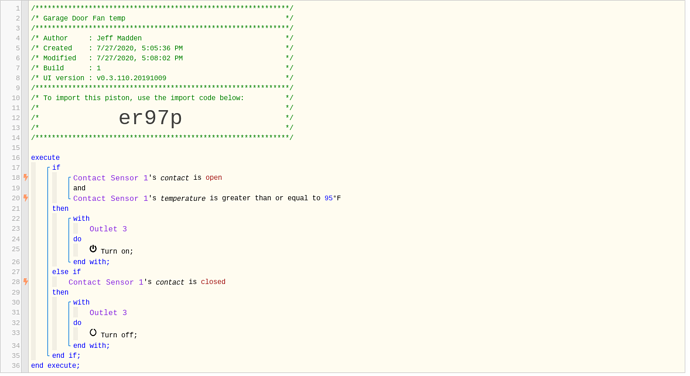 3) What is happening/not happening?
(PUT YOUR INFO HERE)
4) Post a Green Snapshot of the piston


(UPLOAD YOUR IMAGE HERE)
5) Attach logs after turning logging level to Full
7/28/2020, 1:43:38 PM +996ms
+1ms ╔Received event [Garage Door Sensor].temperature = 103 with a delay of 46ms
+47ms ║RunTime Analysis CS > 13ms > PS > 5ms > PE > 30ms > CE
+49ms ║Runtime (37823 bytes) successfully initialized in 5ms (v0.3.110.20191009) (48ms)
+50ms ║╔Execution stage started
+144ms ║║Comparison (enum) closed is (string) open = false (1ms)
+146ms ║║Condition #3 evaluated false (7ms)
+147ms ║║Condition group #1 evaluated false (state did not change) (8ms)
+153ms ║║Comparison (enum) closed is (string) closed = true (1ms)
+154ms ║║Condition #5 evaluated true (6ms)
+155ms ║║Condition group #2 evaluated true (state did not change) (8ms)
+157ms ║║Cancelling statement #6's schedules…
+162ms ║║Skipped execution of physical command [garage fan].off([]) because it would make no change to the device. (3ms)
+163ms ║║Executed [garage fan].off (4ms)
+165ms ║╚Execution stage complete. (115ms)
+166ms ╚Event processed successfully (166ms)