This piston will turn on your TV's accent lights (if you have them) and will also lower your living room light levels (if they are on) when you turn on your TV and then when your TV is turned off it will increase the living room light levels (which ever ones are on) and turn off your TV's accent lights.
This uses the new smartthings smart wifi plug to monitor power draw from TV. You will need to adjust the power requirements in the piston as different TV's draw different amounts of power when they are on VS off.
RGB blub 1 is the accent light strip i have mounted on back of my TV. If you want your TV to really shine, you'll want the color temperature of the bias light to match the color temperature your TV manufacturer uses to back-light the display, so I set the temperature of the light strips to 6500k as most TVs and monitors fall somewhere between 6000K and 6500K,
Here is the piston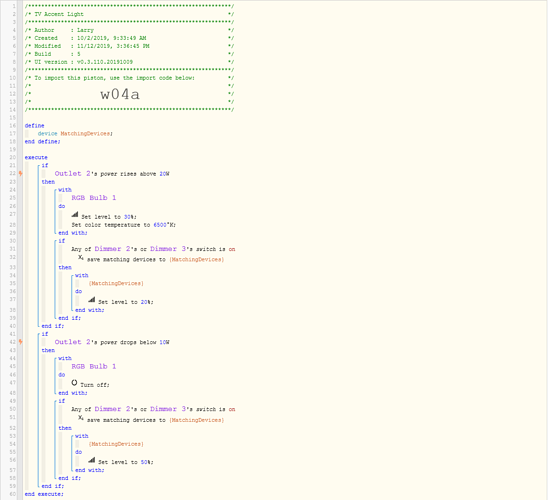 If anyone has any questions please ask them here.