Awesome @Koyfam… There was some gems in that one!
I'm definitely seeing some patterns that should make coding easy for us…

---
If that alert is still active, would you be able to run two quick commands for me?
(or really anyone with an active alert can do this)
At the bottom of any piston (not in edit mode) there is an "Evaluation Console". Would you change "Value" to "Expression" and try the following two lines, pressing "Enter" between.
$twcweather.alerts.responseTypes.responseType
$twcweather.alerts.responseTypes.responseTypeCode

Like this: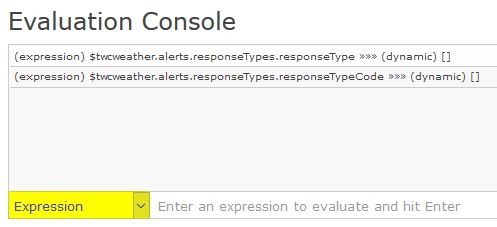 I am trying to confirm the full path for future queries. Hopefully your results contain real data.