1) Give a description of the problem
I have my routines like Good Morning and Good night set to a virtual switch. For example I have a virtual switch called Good Morning and I can say Hey google turn on Good Morning. Then I have a piston set to do certain things when that virtual switch turns on. It has been working for about a year. And now it stopped working in the logs it says Condition group #1 evaluated false (state changed). Can anyone help me with this? I have the same problem with Good night.
Here are the logs and pistons
2) What is the expected behaviour?
The piston should run once the virtual switch is turned on.
3) What is happening/not happening?
Nothing is running.
**4) Post a Green Snapshot of the piston![image|45x37]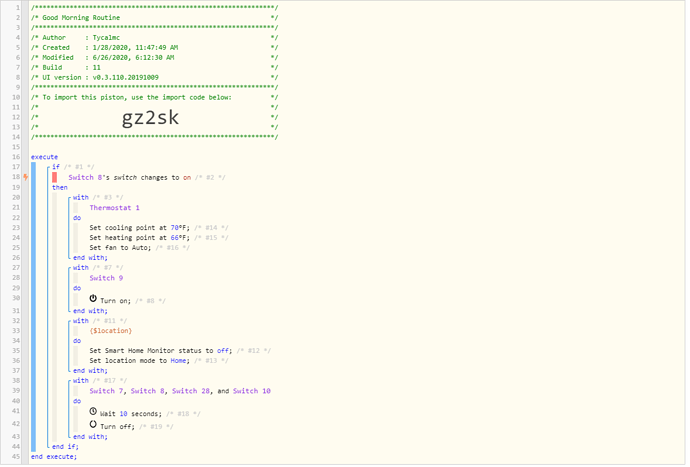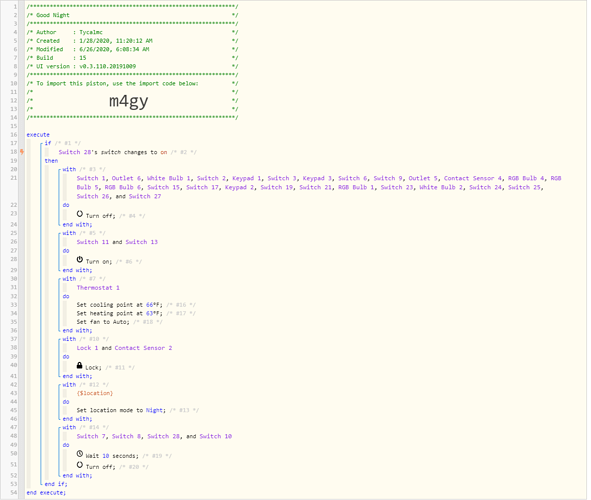 5) Attach logs after turning logging level to Full
6/26/2020, 6:15:35 AM +530ms
+1ms ╔Received event [Good morning].switch = off with a delay of 74ms
+160ms ║RunTime Analysis CS > 21ms > PS > 91ms > PE > 48ms > CE
+163ms ║Runtime (37938 bytes) successfully initialized in 91ms (v0.3.110.20191009) (160ms)
+163ms ║╔Execution stage started
+170ms ║║Comparison (enum) off changes_to (string) on = false (1ms)
+172ms ║║Cancelling condition #2's schedules…
+172ms ║║Condition #2 evaluated false (5ms)
+173ms ║║Cancelling condition #1's schedules…
+174ms ║║Condition group #1 evaluated false (state changed) (7ms)
+176ms ║╚Execution stage complete. (13ms)
+177ms ╚Event processed successfully (177ms)