1) Give a description of the problem
I created the smart app but it is still not showing in the Smartthings app. I have the V3 Samsung hub with the newest app.
2) What is the expected behavior?
I want to see Webcore under automations in Smartthings app
3) What is happening/not happening?
It's not showing up after enabling oauth and publishing it to me.
4) Post a Green Snapshot of the piston![image|45x37](upload://xK8WwMCzoDkDrcB1Jf27yjtZ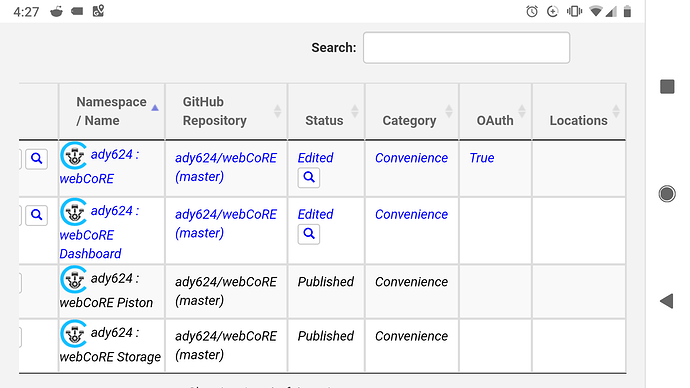 9bq.png)
(UPLOAD YOUR IMAGE HERE)
5) Attach any logs (From ST IDE and by turning logging level to Full)
(PASTE YOUR LOGS HERE BETWEEN THE MARKS THEN HIGHLIGHT ALL OF THE LOGS SND CLICK ON THE </> ICON TO FORMAT THEM)