1) Give a description of the problem
While loop at line 55 doesn't stop and keeps dimming until the light (Dimmer2) is completely off although halfway through the button (Keypad3) isn't held anymore.
2) What is the expected behaviour?
I thought the loop would terminate as soon as the button wasn't held anymore.
3) What is happening/not happening?
Refer to 1
**4) Post a Green Snapshot of the piston![image|45x37]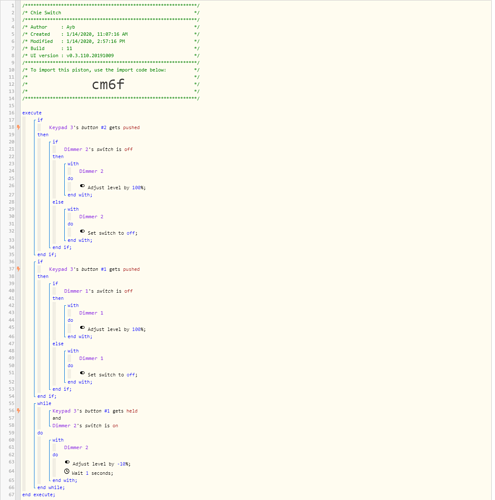 **
(UPLOAD YOUR IMAGE HERE)
5) Attach logs after turning logging level to Full
(PASTE YOUR LOGS HERE THEN HIGHLIGHT ALL OF THE LOGS AND CLICK ON THE </> ICON TO FORMAT THEM CORRECTLY)