1) Give a description of the problem
I have created a piston, that turns off specific lights and sends a push notification, when it is done.
I wonder, why I get two push notifications, when the piston runs.
2) What is the expected behaviour?
Turn off lamps and send push notification.
3) What is happening/not happening?
The lamps turn off as planned, but instead of just one push notification, I get two. Seems like the piston does the 'then'-part twice - like a 'for'-loop, but I wouldn't expect that.
EDIT: I have tested and noted that I also get two push notification if only one lamp is on, so it makes no sense to me, why it 'runs twice'.
4) Post a Green Snapshot of the piston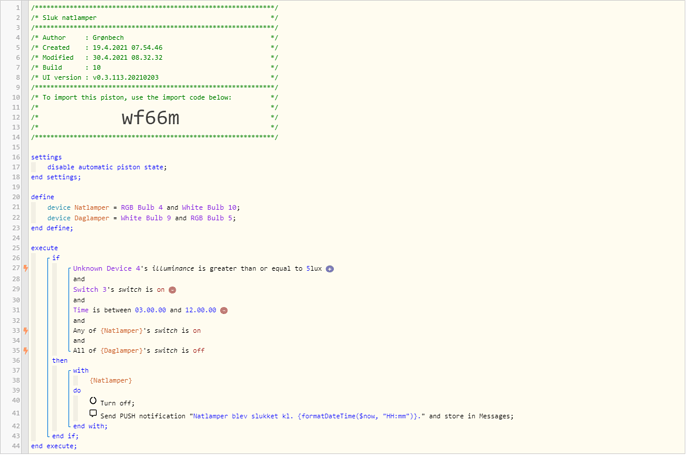 5) Attach logs after turning logging level to Full
(PASTE YOUR LOGS HERE THEN HIGHLIGHT ALL OF THE LOGS AND CLICK ON THE </> ICON TO FORMAT THEM CORRECTLY)
REMOVE BELOW AFTER READING
If a solution is found for your question then please mark the post as the solution.