1) Give a description of the problem
I have my Blink XT2 camera set to turn on my light via a smart life switch using IFTTT.
2) What is the expected behaviour?
It is set through webCoRE to turn off the light after 1 minute. I am trying to get webCoRE to recognize if I manually turn the switch on and not to automatically turn the light off. Only turn off if it was turned on with IFTTT.
3) What is happening/not happening?
Light turns off after 1 minute. Regardless of weather I turned the switch on or it was turned on by blink IFTTT
**4) Post a Green Snapshot of the piston!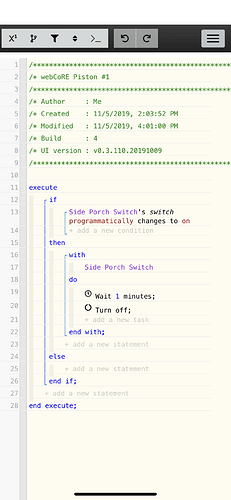 New to all of this. I've tried searching but haven't found anything. Thanks in advance.
Joe