1) Give a description of the problem
I wrote this simple piston to control the lock on a doggie door, allowing it to remain unlocked when it is safe for the dogs to go outside on their own (we have foxes and coyotes around), and keeping it locked when it's not safe.
2) What is the expected behavior?
The doggie door is to remain locked when any of the following are true: (1) either of our backyard gates are open; or (2) no one is home (i.e, mode is not HOME); or (3) it's dark out. In reverse, the doggie door is unlocked when all 3 of the same things are true.
3) What is happening/not happening?
I noticed that when the piston runs, it sets a NEXT SCHEDULED time for the piston to run 24 hours later, It therefore appears to miss important events in the interim. As a webcore newbie, I've tried to read up on scheduling policies, but I must be missing something.
4) Post a Green Snapshot of the piston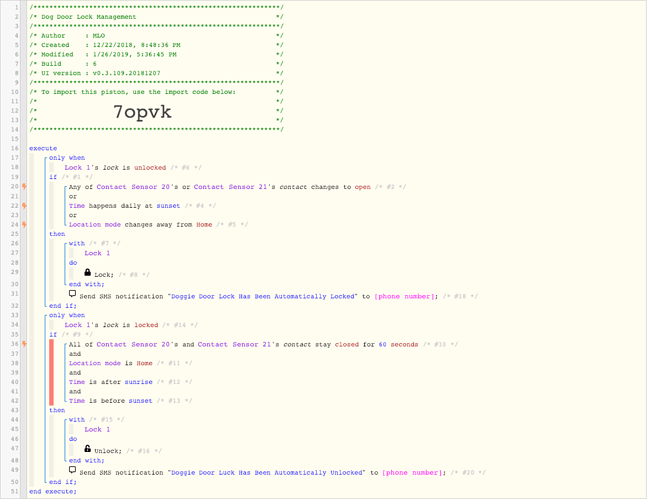 5) Attach any logs (From ST IDE and by turning logging level to Full)
1/26/2019, 5:46:14 PM +54ms
+1ms ╔Received event [Home].time = 1548546375645 with a delay of -1591ms
+171ms ║RunTime Analysis CS > 16ms > PS > 122ms > PE > 33ms > CE
+174ms ║Runtime (43099 bytes) successfully initialized in 122ms (v0.3.109.20181207) (172ms)
+175ms ║╔Execution stage started
+193ms ║║Cancelling condition #9's schedules…
+196ms ║║Cancelling condition #10's schedules…
+197ms ║║Condition #10 evaluated true (1ms)
+202ms ║║Comparison (string) :bbc2bbf1ddc37b27b6454a9e3406cf61: is (string) :bbc2bbf1ddc37b27b6454a9e3406cf61: = true (2ms)
+204ms ║║Condition #11 evaluated true (6ms)
+238ms ║║Comparison (time) 63974259 is_after (time) 1548508200000 = true (8ms)
+240ms ║║Time restriction check passed
+242ms ║║Condition #12 evaluated true (36ms)
+255ms ║║Comparison (time) 63974297 is_before (time) 1548543480000 = false (9ms)
+257ms ║║Condition #13 evaluated false (14ms)
+258ms ║║Cancelling condition #9's schedules…
+259ms ║║Condition group #9 evaluated false (state changed) (65ms)
+263ms ║╚Execution stage complete. (87ms)
+265ms ║Setting up scheduled job for Sun, Jan 27 2019 @ 4:58:00 PM CST (in 83505.682s)
+362ms ╚Event processed successfully (362ms)