**1) I am no longer getting SMS messages from any piston. They just stopped. I didn't make any changes and like others in the forum, my tests from new pistons don't work either … but the logs show it sent???
**2) I should be getting SMS messages
**3) They were working.
**4)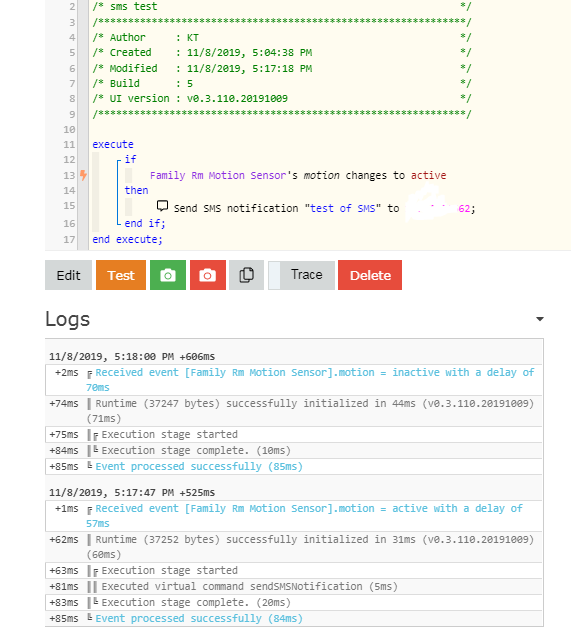 5) Attach logs after turning logging level to Full
+1ms
╔Received event [Living Room Motion].motion = active with a delay of 78ms
+58ms
║RunTime Analysis CS > 15ms > PS > 33ms > PE > 10ms > CE
+60ms
║Runtime (37476 bytes) successfully initialized in 33ms (v0.3.110.20191009) (58ms)
+61ms
║╔Execution stage started
+68ms
║║Comparison (enum) active changes_to (string) active = true (1ms)
+70ms
║║Cancelling condition

#5

's schedules…
+71ms
║║Condition

#5

evaluated true (5ms)
+72ms
║║Cancelling condition

#1

's schedules…
+72ms
║║Condition group

#1

evaluated true (state changed) (7ms)
+74ms
║║Cancelling statement

#3

's schedules…
+95ms
║║Executed virtual command sendSMSNotification (16ms)
+98ms
║╚Execution stage complete. (36ms)
+99ms
╚Event processed successfully (98ms)