The following provides an example of how to use webCoRE to access the Tesla API.
The first piston obtains the required OAuth API token and expiration date, plus the Vehicle ID. It also creates a new token prior to the expiration date of the old one. Instructions for the piston are included in the comments just below the Define Variable section. Basically, just add your Tesla email address & account password, create the required Global variables, save and click Test.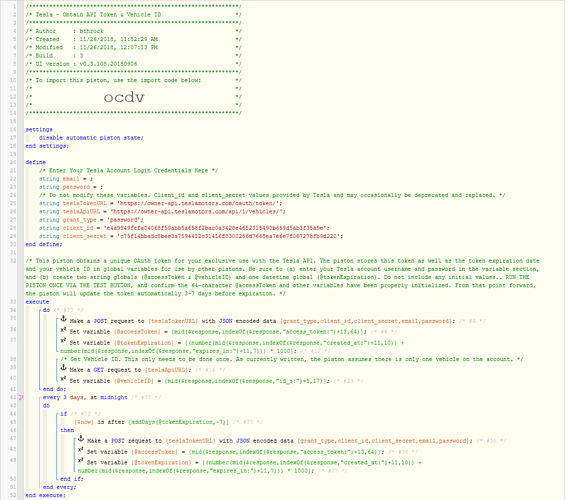 The second piston will run successfully via the TEST button ONLY AFTER the first piston has been run successfully and your credentials have been stored in the global variables you created. The piston provides examples of the methodology for accessing the API and parsing the responses.
Whatever trigger you use to activate the pistons you develop from this information, remember that waking the car uses the battery. The usage is small, but waking the car too often could impact your range.
Of course this is only example. More data and more commands are available for those interested in developing their own pistons. For more information on the Tesla API see: https://www.teslaapi.io/ or https://tesla-api.timdorr.com/
Let me know if you find this useful. Good luck!
Edited 12/14/18: Updated original text and piston to focus exclusively on how to access the API and the proper method of parsing the JSON response.