1) Give a description of the problem
I got a new motion sensor and thought I'd try to have my bedroom lights turn on as I'm heading to bed
2) What is the expected behavior?
Turn on Switch 1 (Virtual Switch used for goodnight routine), then If if motion is detected within one minute, turn on my bedroom lights
3) What is happening/not happening?
Switch turns on, motion is detected, lights not turning on. Seems so simple, not sure what I'm missing,
4) Post a Green Snapshot of the piston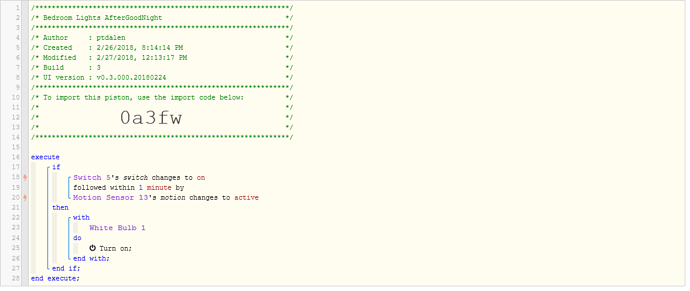 5) Attach any logs (From ST IDE and by turning logging level to Full)
(PASTE YOUR LOGS HERE BETWEEN THE MARKS THEN HIGHLIGHT ALL OF THE LOGS SND CLICK ON THE </> ICON TO FORMAT THEM)
REMOVE BELOW AFTER READING
If a solution is found for your question then please mark the post as the solution.