For the life of me, I love
using the new V5 Font Awesome icons in my WebCore Tiles dashboard. But sometimes some of the FA icons do not render for me where many of them do. This is probably something I overlooked in the wonderful documentation but I have re-read the WebCore wiki and Font Awesome documentation.
According the the FA display page, the "fas fa-weather-frigid" does not display what it should. Here is what I get from my WebCore expression.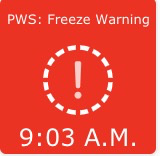 I have the following conditions:
Hard reloaded Mac Chrome (Version 70.0.3538.102 (Official Build) (64-bit))
Ad Blocker disabled
WebCore hosted dashboard
Have tried adding a weight value to the string as in "fas-2x fa-weather-frigid" with similar missing icon
All other different FA icons in other WebCore tiles are rendering as expected.
I was hoping to render the following FA Frigid Weather icon: