1) Give a description of the problem
I'm trying to get information logged in the "Messages" section of the smartthings app.
I have tried to use
"Send SMS Nofication"
"Send Noficiation to Contacts"
"Log to Console"
"Send Push Notification"
All with "Store in Messages" set to "true"
"Send Push notification" does work and puts the information into the "Messages" section of the app. However I do not want a push notification sent for this information. I do use the push notifications for other things, but I just want this to show up in the messages log without the push.
The three other options that I have tried do not end up with the information in "messages" on the smartthings app.
2) What is the expected behaviour?
For "Store in Messages" to log the information in Messages in the smartthigns app for those three options, like it does for the Send Push notification option.
3) What is happening/not happening?
The information isn't showing in the messages section of the smartthings app, except for "send push notification"
**4) Post a Green Snapshot of the piston!
(UPLOAD YOUR IMAGE HERE)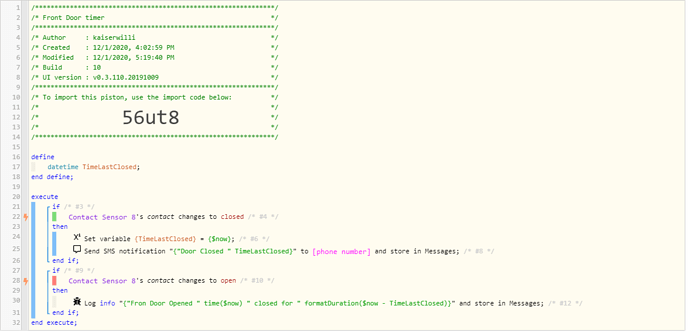 Here is a screenshot of the messages section on the smartthings app. The three messages that are showing there are from testing when I set it to "Send Push notification". You can see from the log below that the door was opened and closed at 5:19 and neither the sendSMSNotification (which did come through to my phone number) nor the "log" (which did show in the webcore log) showed up in the messages in smartthings that I screenshotted at 5:20.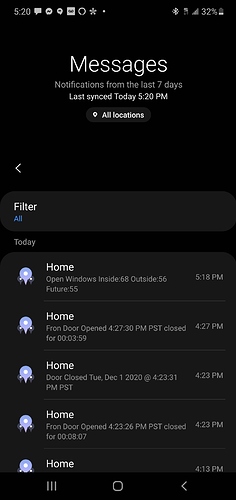 5) Attach logs after turning logging level to Full
(PASTE YOUR LOGS HERE THEN HIGHLIGHT ALL OF THE LOGS AND CLICK ON THE </> ICON TO FORMAT THEM CORRECTLY)
12/1/2020, 5:19:58 PM +166ms
+1ms ╔Received event [Front Door].contact = closed with a delay of 78ms
+54ms ║RunTime Analysis CS > 18ms > PS > 24ms > PE > 12ms > CE
+56ms ║Runtime (38895 bytes) successfully initialized in 24ms (v0.3.110.20191009) (54ms)
+57ms ║╔Execution stage started
+64ms ║║Comparison (enum) closed changes_to (string) closed = true (1ms)
+65ms ║║Cancelling condition #4's schedules…
+66ms ║║Condition #4 evaluated true (5ms)
+67ms ║║Cancelling condition #3's schedules…
+68ms ║║Condition group #3 evaluated true (state changed) (7ms)
+70ms ║║Cancelling statement #5's schedules…
+75ms ║║Executed virtual command setVariable (2ms)
+78ms ║║Cancelling statement #7's schedules…
+83ms ║║Calculating (string) Door Closed + (string) Tue, Dec 1 2020 @ 5:19:58 PM PST >> (string) Door Closed Tue, Dec 1 2020 @ 5:19:58 PM PST
+97ms ║║Executed virtual command sendSMSNotification (10ms)
+103ms ║║Comparison (enum) closed changes_to (string) open = false (1ms)
+104ms ║║Cancelling condition #10's schedules…
+105ms ║║Condition #10 evaluated false (5ms)
+106ms ║║Cancelling condition #9's schedules…
+107ms ║║Condition group #9 evaluated false (state changed) (7ms)
+109ms ║╚Execution stage complete. (52ms)
+110ms ╚Event processed successfully (110ms)
12/1/2020, 5:19:56 PM +741ms
+1ms ╔Received event [Front Door].contact = open with a delay of 96ms
+50ms ║RunTime Analysis CS > 14ms > PS > 22ms > PE > 14ms > CE
+52ms ║Runtime (38900 bytes) successfully initialized in 22ms (v0.3.110.20191009) (50ms)
+53ms ║╔Execution stage started
+60ms ║║Comparison (enum) open changes_to (string) closed = false (1ms)
+62ms ║║Condition #4 evaluated false (4ms)
+63ms ║║Condition group #3 evaluated false (state did not change) (5ms)
+68ms ║║Comparison (enum) open changes_to (string) open = true (0ms)
+69ms ║║Cancelling condition #10's schedules…
+70ms ║║Condition #10 evaluated true (5ms)
+71ms ║║Cancelling condition #9's schedules…
+72ms ║║Condition group #9 evaluated true (state changed) (6ms)
+74ms ║║Cancelling statement #11's schedules…
+84ms ║║Calculating (datetime) 1606871996822 - (datetime) 1606870942386 >> (datetime) 1054436
+90ms ║║Calculating (string) Fron Door Opened + (string) 5:19:56 PM PST >> (string) Fron Door Opened 5:19:56 PM PST
+92ms ║║Calculating (string) Fron Door Opened 5:19:56 PM PST + (string) closed for >> (string) Fron Door Opened 5:19:56 PM PST closed for
+95ms ║║Calculating (string) Fron Door Opened 5:19:56 PM PST closed for + (string) 00:17:34 >> (string) Fron Door Opened 5:19:56 PM PST closed for 00:17:34
+98ms ║║Fron Door Opened 5:19:56 PM PST closed for 00:17:34
+100ms ║║Executed virtual command log (3ms)
+102ms ║╚Execution stage complete. (49ms)
+103ms ╚Event processed successfully (103ms)