Not sure if this is a bug or just a general question. I'm new here, so sorry if I'm putting this in the wrong place!
I'm a software developer for a living, so Webcore has always been super relatable to me and very easy to use. I switched from ST to HE a few months ago and couldn't be happier… well… except for LIFX integration.
With ST, I had a few triggers that, when run, would run the LIFX - Breathe… effect. I was able to select any bulb (or bulbs), configure it, easy, done.
With HE, I only have the option to select a scene. But… I don't want a scene. I just want to send an API request to the LIFX API, targeting one or two bulbs, to run the breathe effect as designed. If I select Physical Device, I can pick my bulbs. I did this on ST. However, on the HE version, it adds a secondary dropdown (pictured, circled) for things like hue and color - this didn't exist on ST, and shouldn't exist here. And if I try to run this, it does nothing.
The same goes with all of the "LIFX - *" actions.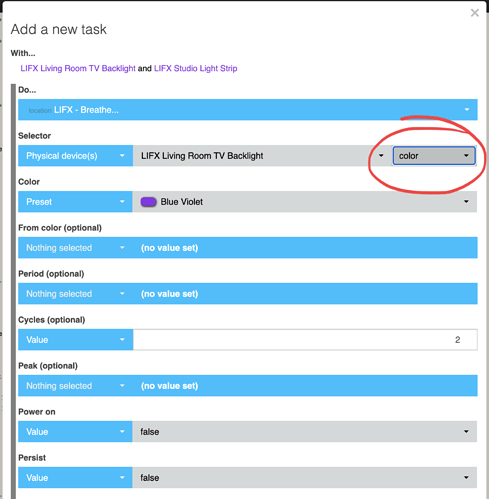 ---
Thanks! I'm open to suggestions.