I just want to preface this with: I did do a search and found various fuel stream problems, some of which sound like mine, but none of which has been active lately. Since mine has been consistent on this instance (see below) for a while, I'm making a new thread. Hope that's okay!
1) Give a description of the problem
No matter what I do, including just having a piston manually create a stream of 0s, I get the message 'Sorry, you have no fuel streams yet. Please create one by using the "Write to fuel stream" task.' This is a new instance, which I first tested several months ago and am trying to follow up on now. I have several streams that should be adding data, and are logging properly. Some have been running continuously for several months. I've tried to access the streams at least 3 times over the last few months, and they've always been empty.
I heavily automated my old home w/WebCoRE (thanks you so much for an amazingly powerful tool), and had a lot of fuel streams tracking my old house. That instance appears to still be okay; the streams are visible and data is still being added to the few streams whose pistons are still triggering (most are not because the house is rented and the hub is disconnected).
The problem is in a brand new instance for my new house. Both instances are visible in my browser.
Many thanks for any help and hopefully fixing my face.!
2) What is the expected behaviour?
Fuel streams w/data. See above for details.

3) What is happening/not happening?
Fuel streams w/data. See above for details.

4) Post a Green Snapshot of the piston!
I have several, but here's one that's been running and logging for quite a while.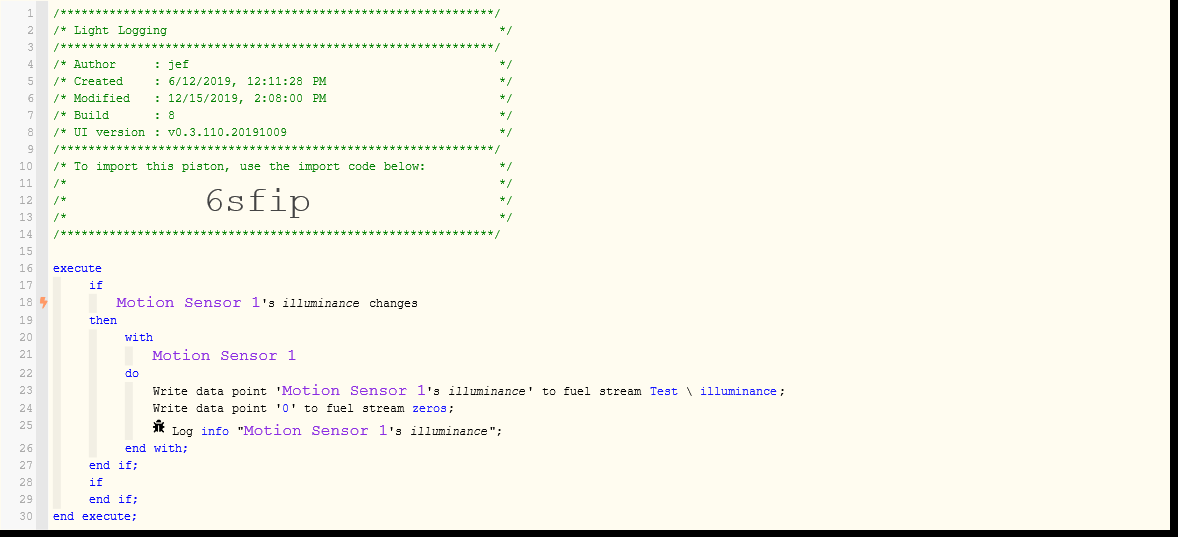 5) Attach logs after turning logging level to Full
12/15/2019, 4:26:50 PM +447ms
+2ms ╔Received event [Entryway].illuminance = 16 with a delay of 147ms
+116ms ║RunTime Analysis CS > 23ms > PS > 45ms > PE > 48ms > CE
+118ms ║Runtime (37621 bytes) successfully initialized in 45ms (v0.3.110.20191009) (115ms)
+119ms ║╔Execution stage started
+125ms ║║Comparison (integer) 16 changes = true (1ms)
+126ms ║║Condition #4 evaluated true (3ms)
+127ms ║║Condition group #3 evaluated true (state did not change) (5ms)
+129ms ║║Cancelling statement #1's schedules…
+165ms ║║Executed virtual command [Entryway].writeToFuelStream (29ms)
+170ms ║║Executed virtual command [Entryway].writeToFuelStream (1ms)
+175ms ║║16
+176ms ║║Executed virtual command [Entryway].log (1ms)
+179ms ║║Condition group #7 evaluated true (state did not change) (0ms)
+180ms ║╚Execution stage complete. (62ms)
+181ms ╚Event processed successfully (181ms)
12/15/2019, 3:26:43 PM +224ms
+1ms ╔Received event [Entryway].illuminance = 68 with a delay of 136ms
+109ms ║RunTime Analysis CS > 21ms > PS > 39ms > PE > 48ms > CE
+111ms ║Runtime (37624 bytes) successfully initialized in 39ms (v0.3.10c.20190522) (109ms)
+112ms ║╔Execution stage started
+119ms ║║Comparison (integer) 68 changes = true (0ms)
+120ms ║║Condition #4 evaluated true (4ms)
+121ms ║║Condition group #3 evaluated true (state did not change) (5ms)
+123ms ║║Cancelling statement #1's schedules…
+144ms ║║Executed virtual command [Entryway].writeToFuelStream (15ms)
+150ms ║║Executed virtual command [Entryway].writeToFuelStream (1ms)
+157ms ║║68
+159ms ║║Executed virtual command [Entryway].log (1ms)
+162ms ║║Condition group #7 evaluated true (state did not change) (0ms)
+165ms ║╚Execution stage complete. (52ms)
+166ms ╚Event processed successfully (166ms)
12/15/2019, 2:43:28 PM +84ms
+0ms ╔Received event [Entryway].illuminance = 118 with a delay of 145ms
+204ms ║RunTime Analysis CS > 38ms > PS > 123ms > PE > 44ms > CE
+206ms ║Runtime (37629 bytes) successfully initialized in 123ms (v0.3.10c.20190522) (205ms)
+207ms ║╔Execution stage started
+213ms ║║Comparison (integer) 118 changes = true (0ms)
+214ms ║║Cancelling condition #4's schedules…
+215ms ║║Condition #4 evaluated true (4ms)
+216ms ║║Cancelling condition #3's schedules…
+217ms ║║Condition group #3 evaluated true (state changed) (6ms)
+219ms ║║Cancelling statement #1's schedules…
+241ms ║║Executed virtual command [Entryway].writeToFuelStream (16ms)
+246ms ║║Executed virtual command [Entryway].writeToFuelStream (1ms)
+251ms ║║118
+252ms ║║Executed virtual command [Entryway].log (1ms)
+255ms ║║Condition group #7 evaluated true (state did not change) (1ms)
+257ms ║╚Execution stage complete. (50ms)
+258ms ╚Event processed successfully (259ms)