1) Give a description of the problem
So I have porch lights that are turned on with motion on a camera that activates a simulated switch that turns on a wall mounted switch that turns on the lights.
There is a delay and then the light goes out. Pretty simple.
What I want to do is if the wall mounted switch is already ON, then I DON'T want the piston to fire. The reason being is if we are out on the porch, the lights will keep going on, delay, and then off again, on again with motion etc.
I would like the piston to see that the switch is already on because I physically turned it on, so it won't run.
Seems simple (and I'm sure it is) but I can't figure it out for the life of me.
2) What is the expected behaviour?
Piston run as motion detector only if switch isn't already on.
3) What is happening/not happening?
Lights go on/off with motion after a delay no matter what.
I know why the posted piston doesn't work, but posted as a starting off point.
4) Post a Green Snapshot of the piston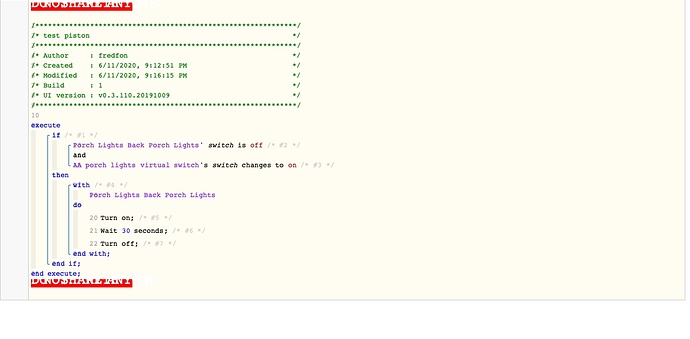 5) Attach logs after turning logging level to Full
(PASTE YOUR LOGS HERE THEN HIGHLIGHT ALL OF THE LOGS AND CLICK ON THE </> ICON TO FORMAT THEM CORRECTLY)